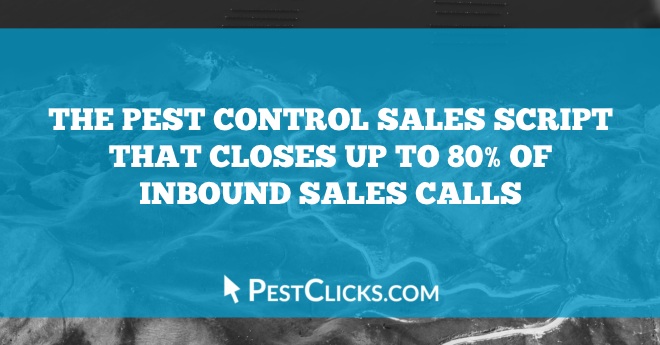 When I started my first pest control company, Alchemy Pest Control, I didn't have office staff. I hired technicians and a salesman and my better half and I ran the office. Although I had field and sales experience there was a lot to learn in the office. Administrative tasks, marketing, customer care, and inbound sales calls.
I didn't take long for me to recognize how crucial that last one was.
Double Your Close Rate And You Double Your Marketing ROI
Let's be honest. You can count on most of the competition having using a very poor sales script. Okay let's be brutally honest, most pest control companies don't use a sales script at all.
That's a big shame. And here are the two biggest reasons why:
If you can't close an inbound sales call (phone calls or emails from potential buyers) or if your close rate is too low. You won't get a return on your marketing dollars. Seriously, there are many pest control brands that say that they've tried everything and don't get a return on their marketing dollars. In some cases, the marketing funnel may be intact but the ability to close the leads is missing. In short, with a broken sales script, you won't be able to afford most marketing methods. And if you can't afford marketing, you're not going to grow.
The opposite is also true and is HUGE. If your competition has a less than fair inbound sales close rate of 20% and you have a stellar close rate of 80% – well then, you'll be able to afford marketing that's four times the cost (all other things equal). In short, you'll afford many types of marketing – SEO, AdWords, remarketing/retargeting, etc.  And if you can afford, and a lot of marketing, you'll have great growth.
What Not To Do
At one point, we decided to call several pest control companies and inquire about their service and prices.  It was sad. The great majority of pest control companies responded with something like, "You can get quarterly services for $90, every other month services for $70 or monthly service for $60." That was it. It was usually an eight or nine second response that told me nothing – except that they treated their own service like a commodity as if it just came down to price.
Wasn't there a better way?
My company was so much more than just another pest control company. And I had to figure out a way for us to stick out among all the other brands. We took a lot of calls, and in time closed thousands of sales. We became experts at inbound sales. How do I know? Well
What's The Target Close Rate?
Short answer, 50-80%. You don't want a close rate above 80%.
Why?
About 10% of potential buyers are just looking for the absolute lowest cost. They are strapped for funds and the lowest price wins. You don't want these customers. Not because they're not great people, but because they were never going to be a long-term customer.
Another 10% of potential buyers are really grouchy, ornery, and difficult human beings. They may or may not have a problem with paying a fair price but YOU DO NOT WANT THESE CUSTOMERS!! Why? Becuase, they're not great people, or at least not great for business.
So anything above 80% close rate is too good.
And if you're below the 50% close rate, that isn't good enough. You're marketing, messaging, and sales scripts need a lot of help – especially if you're priced competitively.
The Script That Closed Thousands of Sales
Eventually, we stopped altering our sales script. I believe that we should never stop improving, but when you've found a script that closes up to 80% of inbound sales – you've got something worth holding onto.
The script was much longer than most pest companies, but not only did it work, it focused on managing expectations and setting autopay. Managing expectations and auto pay will help the buyers have much higher lifetime value.
The Script in Blue and Green With Explanations in The Yellow Boxes
Sales Rep: Alchemy Pest Control, this is Andrew.
A NICE QUICK AND TO THE POINT HELLO. BORING, BUT SAID WITH A SMILE.
Shopper: Yes, I found your website online and I just wanted to get pricing for spiders.
Sales Rep: I'd love to help with that. Can I start by asking which zip code you live in?
IMPORTANT
MANY POTENTIAL BUYERS ARE CALLING AND WANT AN IMMEDIATE ANSWER TO THEIR PRICING QUESTION. THIS MAY BE ONE OF THE BIGGEST REASONS COMPETITORS END UP JUST GIVING AN IMMEDIATE ANSWER TO THE PRICING.
IF YOU DON'T RESPOND TO THEIR DESIRE TO SIMPLY GET PRICING INFO – YOU RISK FRUSTRATING THE POTENTIAL BUYER.
YOU'VE GOT THREE OPTIONS:
BE LIKE THE OTHER GUYS AND JUST GIVE PRICING INFO
FRUSTRATE THEM WITH A RESPONSE THAT BEGINS WITH "BEFORE WE GIVE PRICING …"
DO SOMETHING LIKE THE ABOVE, "I'D LOVE TO HELP WITH THAT. CAN I SART BY ASKING YOUR ZIP CODE?"
I LOVE THIS THIRD OPTION BECAUSE FIRST, you're APPEASING THEIR DESIRE TO GET PRICING BUT, AND JUST AS IMPORTANTLY, YOU ARE VERY POLITELY TAKING CONTROL OF THE SCRIPT IN A WAY THAT MAKES SENSE.
YOU'RE ANSWERING THEIR PRICING QUESTION BY ASKING FOR A ZIP CODE.
THIS MAKES PERFECT SENSE TO THE SHOPPER. THEY GET IT. ASKING WHERE THEY LIVE AND THUS HOW FAR FROM YOUR OFFICE IS SOMETHING YOU WOULD NEED TO KNOW BEFORE GIVING A QUOTE.
YOU'VE BEGUN TO GUIDE THE DIALOGUE RIGHT FROM THE BEGINNING. THIS IS IMPORTANT.
Shopper: Sure. 27604.
Sales Rep: Oh, you're right here in Raleigh. Great! And what year was your home built?
WHEN YOU FOCUS ON INBOUND MARKETING MOST OF YOUR POTENTIAL BUYERS WILL BE CALLING FROM WITHIN YOUR SERVICE AREA. IF THERE CALLING FROM A ZIP CODE NEAR YOUR OFFICE OR FROM THE SAME CITY TAKE A MOMENT TO LET THEM FEEL THAT.
THIS IS ESPECIALLY VALUABLE IF THEY ARE CALLING FROM A SUBURB OR SMALL TOWN. IF YOU'RE IN YOUNGSVILLE, NC AND THEY ARE CALLING FROM YOUNGSVILLE, NC SAY SOMETHING LIKE,
"OH, YOU'RE RIGHT HERE IN YOUNGSVILLE, GREAT!"
THIS DOES TWO THINGS AT THE SAME TIME. SETS YOU APART FROM ALL THE COMPETITION THAT IS FURTHER FROM THEM AND HELPS THE POTENTIAL BUYER FEEL CONNECTED.
ALSO, NOTICE THE SECOND QUESTION, "AND WHAT YEAR WAS YOUR HOME BUILT?"
ANOTHER QUESTION THAT MAKES IT CLEAR THAT YOU WANT TO UNDERSTAND A FEW THINGS BEFORE GIVING A QUOTE.
Shopper: I think it was 2006.
Sales Rep: Alright. And do you have a crawlspace?
ANOTHER QUESTION. WE'RE NOT ASKING QUESTIONS JUST TO ASK QUESTIONS BY THE WAY. THESE ARE QUESTIONS WE REALLY WANT TO KNOW TO UNDERSTAND THIS HOME. THERE IS A DIFFERENCE BETWEEN HOMES WITH AND WITHOUT CRAWLSPACES. AND THE ANSWER TO THIS QUESTION IS NEEDED FOR LATER IN THE SALES SCRIPT.
ALSO, THEY'RE QUICKLY GETTING THE IMPRESSION THAT YOU ARE MORE THOROUGH THAN THE OTHER GUY. AND YOU ARE ESTABLISHING YOURSELF AS AN AUTHORITY WHILE KEEPING CONTROL OF THE DIALOGUE.
Shopper: We do.
Sales Rep: Okay. And are there any pests, other than spiders, you've seen inside or outside your home that concerns you?
THIS QUESTION IS THE LAST OF THE OPENING FOUR QUESTIONS. IT'S A VERY IMPORTANT ONE. FOR A FEW REASONS:
"ARE THERE ANY PESTS" NOT "WHICH PESTS". IF YOU ASK WHICH PESTS THEY'RE SEEING AND THEY RESPOND NONE. THEN YOU'RE ALREADY PLANTING A THOUGHT WITHIN THEIR MIND, "MAYBE THIS SERVICE IS MORE AIMED AT PEOPLE WHO HAVE PEST PROBLEMS".
"YOU'VE SEEN" NOT "ARE THERE ANY PESTS YOU HAVE PROBLEMS WITH". PEOPLE DON'T LIKE TO HAVE PROBLEMS, AND AT THE SAME TIME YOU WANT TO KNOW WHAT THEY'VE SEEN AND WANT THEM TO REMEMBER THAT VISUAL AS WELL.
YOU'RE ALSO GATHERING IMPORTANT INFORMATION HERE. WHICH YOU CAN USE AS NOTES TO THEIR ACCOUNT AND USE AS YOU CLOSE AND SCHEDULE THE SALE.
Shopper: We get a few ants here and there, but, mostly concerned about spiders.
Sales Rep: Okay, well, this would fall under our home protection plan. I'd like to very briefly explain the plan and pricing options and you can tell me if it's a good fit for you.
I'VE FOUND THIS LINE TO BE VERY IMPORTANT. TWO REASONS:
"I'D LIKE TO VERY BRIEFLY EXPLAIN THE PLAN AND PRICING". THIS IS AN IMPORTANT LINE. WE'VE TAKEN LONGER THAN THE OTHER GUYS TO ANSWER THEIR PRICING QUESTION SO WE WANT THEM TO KNOW WE HAVEN'T FORGOTTEN ABOUT GIVING THEM THE PRICING THEY WANTED, SOMETIMES EVEN URGENTLY WANTED.
THEY ALMOST ALWAYS QUICKLY AGREE TO THIS STATEMENT – AND SO THEY'RE AGREEING TO BOTH HEARING THE BRIEF EXPLANATION OF THE PLAN AND THE PRICING. WHEN YOU SAY IT THIS WAY THEY DON'T FEEL LIKE YOU'RE DRAGGING THIS ON AND ON. YOU'VE ASKED THE QUESTIONS, AND AT THIS POINT THEY UNDERSTAND THAT YOU'RE THE AUTHORITY AND HAVE A METHOD FOR DOING THINGS AND IT'S IMPORTANT FOR THEM TO UNDERSTAND WHAT THEY'RE PAYING FOR.
"AND YOU CAN TELL ME IF IT'S A GOOD FIT FOR YOU" – THIS IS THE MOST GENTLE AND SOFT CLOSE. AND IF YOU FOLLOW THE SCRIPT – WHEN THE TIMES COMES – THEY'LL LET YOU KNOW IF IT'S A GOOD FIT AND BECAUSE OF YOUR APPROACH AND EXPLANATION THEY'LL ANSWER WITH A YES.
Shopper: Okay, great.
Sales Rep: For your initial service, which is sometimes called a flush out, we'd like to have access to the inside of your home. We'd like to take a peak at your attic and usually we'll want to apply a gentle bait that keeps the attic pests like roaches from infesting there.
TWO THINGS GOING ON HERE:
WE'RE INTRODUCING THE IDEA THAT WE SHOULD ONLY NEED ACCESS TO THE INSIDE OF YOUR HOME AND YOU'LL ONLY NEED TO BE HOME FOR YOUR FIRST SERVICE. THE END GOAL BEING A HAPPY CUSTOMER WHOSE HOME YOUR TECHNICIANS CAN PROVIDE REGULAR EXTERIOR PREVENTIVE TREATMENTS.
WE'VE INTRODUCED THE FIRST HOT SPOT. THE ATTIC. AND WE HAVEN'T SAID, "WE'RE GOING TO DO A VERY THOROUGH INSPECTION OF YOUR ATTIC". WE MANAGE EXPECTATIONS BY SAYING, "WE'D LIKE TO TAKE A PEAK AT". THIS WAY THEY DON'T END UP THINKING OR CALLING BACK SAYING, "I THOUGHT YOU WERE GOING TO DO A THOROUGH INSPECTION, THE TECHNICIAN ONLY SPENT 10 MINUTES IN MY HOME".
Then we'd like to take a quick look under your bathroom and kitchen sinks, right where the plumbing comes into the home. Your technician may want to inject some boric acid into the wall where the plumbing runs down into the crawlspace. This keeps pests, like ants, from following the condensation on the plumbing in the crawlspace up into your home.
AGAIN, ANOTHER HOT SPOT. AND IT'S ADDRESSED IN A WAY THAT MANAGES EXPECTATIONS.
Next, your technician would like you to open the garage so he can inspect and treat there – especially the two front corners of the garage, near the car door. That can be a hotspot for black widows.
THIRD HOTSPOT AND AS YOU'RE ABOUT TO SEE THIS ONE STRIKES A CHORD AND HELPS MAKES YOU AN AUTHORITY.
Shopper: Yes, that's exactly what we found. A big black widow in the corner of the garage!
Sales Rep: Okay, let me add that to your notes.
NOW YOU'VE STARTED A SOFT CLOSE. THEY ALREADY HAVE AN ACCOUNT OR A FILE, AND YOU'RE ADDING NOTES TO IT. THIS IS MUCH MORE PROFESSIONAL AND THOROUGH THAN THE OTHER GUY. THEIR STARTING TO TRUST YOU, AND TRUST IS WORTH SOMETHING TO THEM.
On the exterior of your home, your technician will focus on three things, which we also focus on at each exterior maintenance visit.
First, your technician will also remove cobwebs around light fixtures and the eaves of your home as well as any paper wasp nests that have popped up along your eaves or under your deck. Obviously, we can't prevent cobwebs and nests from popping up between treatments, but we will remove them at the time of each service.
YOU'RE LETTING THEM HEAR FOR THE SECOND TIME HERE THAT MAINTENANCE VISITS CAN BE DONE FROM THE OUTSIDE – EDUCATING YOUR SOON TO BE CUSTOMER THROUGH REPETITION. AND YOU'RE HITTING THE FOURTH AND FIFTH HOTSPOTS – COBWEBS AND PAPER WASPS! BETTER STILL, YOU'RE MANAGING EXPECTATIONS, "OBVIOUSLY, WE CAN'T PREVENT … but we will … ".
Second, your technician will also check for and treat fire ant mounds throughout your yard. Like cobwebs, we can't prevent new fire ants from flying into your yard and starting new mounds between treatments, but we will address them each time we're out.
HOTSPOT #6 FIREANTS! MAYBE THE SHOPPER IS RECALLING A COMPETITOR WHOSE WEBSITE OR REP TOLD THEM FIRE ANTS WERE EXTRA. OR MAYBE THEY'RE RECALLING A MOUND THAT A NEIGHBORS CHILD GOT BIT UP IN. AND OF COURSE, YOU MANAGE EXPECTATIONS ON THIS.
Finally, your technician will apply a barrier treatment around the foundation of your home. This is what prevents ants, roaches, ticks, fleas, centipedes, millipedes, crickets, springtails, etc. from crawling into your home and the walls of your home.
FINAL SHOT AT FINDING YET ANOTHER HOT BUTTON. AND THIS TIME YOU TAKE A BIT OF A SHOTGUN APPROACH MENTIONING THE MOST COMMON PESTS. THEY'RE PROBABLY REMEMBERING SEE SOME OF THESE – NOW THAT YOU'VE MENTIONED THEM. MOST SHOPPERS ARE MORE THAN READY TO BUY AND SCHEDULE AT THIS POINT.
Shopper: Oh good, now that you mention it we have had a couple ugly centipedes make it in the home.
Sales Rep: Okay, let me add that to the technician notes as well.
YOUR SHOTGUN APPROACH HIT A HOT BUTTON, AND YOU'RE MAKING A NOTE OF IT SO IT CAN GET ADDRESSED BY THE TECHNICIANS.
For pricing, the initial treatment is $180 and we have three maintenance plans. Quarterly treatments at $90/treatment. Every other month at $80/treatment. Or monthly at $70/treatment.
In your case, I would recommend the every other month plan.
Would one of those work for you?
THREE THINGS HERE:
FINALLY, YOU GIVE THEM THE PRICING. AND FOR A PROFESSIONAL AND THOROUGH SERVICE LIKE YOURS THEY EXPECT IT TO BE MORE THAN THE OTHER GUY.
YOU GIVE THEM THREE OPTIONS AND MORE IMPORTANTLY YOU'RE GIVING THEM THE AUTONOMY THAT SHOPPERS DESIRE.
YOU GIVE THEM THE MONTHLY OPTION EVEN THOUGH IT'S MORE THAN YOU'D RECOMMEND. YOU DO THIS FOR TWO REASONS, FIRST, IT MAKES A ONE TIME SERVICE SEEM ALMOST REDICULOUS. SECOND YOU'LL GET SOME BUYERS WHO JUST WANT THOSE COBWEBS TAKEN DOWN MORE OFTEN AND CHOSE A PREMIUM PACKAGE.
YOU GAVE THEM A RECOMMENDATION. THIS WILL HELP THEM BE DECISIVE.
YOU WENT FOR THE SOFT CLOSE, AND AT THIS POINT IT WILL USUALLY GET AN IMMEDIATE YES. SOMETIMES, IF THEY'VE CALLED YOU FIRST, THEY'LL STILL WANT TO CHECK WITH AT LEAST ONE OTHER PEST SERVICE, BUT MORE OFTEN THAN NOT, YOUR SUPERIOR PRESENTATION, WILL WIN THE DEAL.
Shopper: Yes, the every other month sounds great.
Sales Rep: Alright, great! We'd like you to be home for your initial service. Are mornings or afternoons best for you.
YOU IMMEDIATELY SCHEDULE UPON RECEIVING A 'YES' RESPONSE. AND YOU DON'T ASK WHEN WILL IT WORK FOR YOU – SETTING YOURSELF UP FOR RESPONDING WITH, "OH, BUMMER, THAT DOESN'T WORK FOR US". YOU SIMPLY ASK, "ARE MORNINGS OR AFTERNOONS BEST?".
Shopper: Mornings, please.
Sales Rep: Alright, would tomorrow, Thursday or Friday work.
MORNINGS ARE BEST SO YOU GIVE THEM THE OPTION BETWEEN THE NEXT THREE MORNINGS YOU HAVE AVAILABLE FOR THEIR ZIP CODE. YOU MAINTAIN CONTROL OF THE SCHEDULING – THIS IS A VERY GOOD EXPECTATION TO MANAGE. AT THE SAME TIME, YOU GIVE THEM PLENTY OF OPTIONS.
Shopper: Thursday works best.
Sales Rep: Alright, how about as early as 8:00 am as late as 11:30 am?
ALRIGHT, MORNINGS ARE BEST, AND THURSDAY WORKS FOR THEM. YOU HAVE A SPOT OPEN AT 8:00 AM BUT YOU DON'T SAY, "HOW ABOUT 8:00 AM?" YOU SAY, "HOW ABOUT AS EARLY AS 8 AS LATE AS 11:30". THIS JUST MAKES THEM PLESENTLY SURPRISED AND PLEASED WHEN THE TECHNICIAN SHOWS UP AT 8:00 AM. IT ALSO PLEASES THEM WHEN HE SHOWS UP AT 8:30 OR 9:00 OR 9:30. AND JUST INCASE YOUR TECHNICIAN IS IN A SERIOUS JAM HE CAN SHOW UP EVEN AS LATE AS 10:00 OR 11:00 WITHOUT UPSETTING THE CUSTOMER.
Shopper: That's fine.
Sales Rep: Alright and can I get your full name?
From Here …
From here we go into a script that gathers contact info for their account. That part is pretty boring but we also used a script to collect payment information. It's important to get as many customers as possible on easypay/autopay. Nowadays that's not too tough. But if you're still getting a decent amount of manual paying customers, I recommend you switch.
Potential Buyers will Go From Interested in a One Time Fix to Happy About Being On a Maintenance Plan
With the above approach, you'll have a very high percentage of inbound calls leaving with a maintenance plan.
How does it work?
Well, you addressed the one time issue, but along the way shared much more value. They heard about the attic, the crawlspace, the plumbing, and the garage. All hot spots. They also heard about cobweb and wasp nest removal and fire ant maintenance. You even snuck it a big shotgun-like approach by listing the common pests that your barrier treatment will prevent.
They came to you for spider control.
But they left happy to have all those cobwebs taken care of. And those pesky wasp nests that keep popping up along their eves. And those fire ant mounds. And …
You get the point.
And you did it without creating frustration that you wouldn't just quickly give them the quote they wanted.
Over to You
What do you think about this sales script? What do you like? What have you tried? And what's working well for you? We want to hear from you. Shoot us a message with your thoughts and/or improvements.